The extent to which the police and prosecuting agencies now operate on counter- terrorism has been widened, with a major impact on civil liberties.
Our lawyers have been involved in most of the last decade's 'terrorism' cases in Scotland as well as campaigning vociferously against draconian terrorism legislation.
The passing of 4 major acts of parliament (Terrorism Act 2000, Anti-Terrorism, Crime & Security Act 2001, the Prevention of Terrorism Act 2005, and the Terrorism Act 2006) has seen the creation of many new offences and a significant increase in police powers.
What is apparent is that minority ethnic, religious groups and the Irish community are primarily affected by the changes in the law and our lawyers are committed to safeguarding their basic and human rights, their freedom of speech, freedom of association and their right to a fair trial. Whilst many are silent, we are renowned for our principled stand against the draconian aspects of the terror laws and have proven ourselves time and time again.
One the highest profile cases to take place in Scotland included the 'terrorism' trial of Mohammed Atif Siddique in 2007.
Aamer Anwar was put on trial for contempt of court for claiming his client was tried in an atmosphere of hostility and was an innocent man.
After Aamer was acquitted of the charge and cleared by the Law Society, he went on to win the appeal for a miscarriage of justice and Siddique was freed from his 8 year sentence.
Our lawyers are passionate about their work and the ability to take on high risk cases is part of our firm's ethos. We also have the firepower to deliver.
Remember if you are arrested under the Terrorism Laws and face charges you are entitled to pick your own lawyer and that you can have confidence in rather than one the state simply selects for you. 
Punching far above our weight, the firm has developed a department that deals with Solemn Criminal work, with an in-house precognition team. At our fingertips are some of the country's leading experts in computers, security, drugs and terrorism.
The firm's has developed expertise in these types of cases by liaising with English firms with a unique experience including those of Gareth Peirce, lawyer for the Birmingham Six and Guilford Four,  immortalised by Emma Thompson in the film in 'the Name of our Father' or that of Imran Khan, lawyer for the Stephen Lawrence family and sucessfully developing case law on the terror laws.
As stated above we were successful in appealing against Scotland's first 'Islamic' terrorism conviction before the Court of Appeal.
Our firm has been a vocal opponent in Scotland of the Government's planned extension of anti-terror powers. Speaking on national platforms alongside the likes of Baroness Helena Kennedy QC, Liberty's Shami Chakrabarti and Gareth Peirce Solicitor.
The Firm has never shied from controversy when it has come to challenging institutions such as the Government, Judiciary or Police. Aamer Anwar was described by the Scotland on Sunday as 'taking on the big guns of the legal system in the best tradition of the feisty lawyer….a fighter for society's underdogs.'

Aamer Anwar was described by Liz Davies the Chair of the Haldane Society in England as 'one of the best adverts for the legal profession with a career dedicated to defending the human rights of the unpopular'.

Moazzam Begg- ex Guantanamo prisoner stated  'In times of fear, hatred and violence it is often very difficult to find people with the courage and fortitude to fight for the rights of the demonised, down-trodden and marginalised….but  Aamer Anwar, is one of those people, an avid defender of others' rights ….' 
Our firm is fearless in defending our client's interests 'representing the best traditions of the legal profession fulfilling a solicitor's duty not only to act as the guardian of liberties but also to seek improvements in the law and the legal system.'
Following the collapse of the Worlds End Trial, the Lord Advocate stressed the importance of the independence of the Judiciary and Prosecution. Equally as important is an independent defence, which is often all that stands between the accused and the state. We stand as part of a rich and important tradition of campaigning lawyers that speak without 'fear or favour'.
A Scottish lawyer who claimed his client did not receive a fair trial on terror charges was today found not guilty of contempt of court.
A Scottish lawyer who claimed his client did not receive a fair trial on terror charges was today found not guilty of contempt of court.
But Aamer Anwar was told he had put forward misleading views and his conduct fell short of the highest professional standards.
The judges added: "The court is entitled to expect better of those who practice before it."
Following today's judgment, Mr Anwar said he welcomed the finding of no contempt.
"As a defence lawyer I never set out to win a popularity contest, but I was taught it is a lawyer's duty to fearlessly represent his clients no matter what crime he is accused of or how demonised he is by society.
"As our Government criminalises communities and creates 'thought crime', lawyers still have a responsibility to be the guardians of our liberties and to campaign against injustice.
"Everyone likes to talk of the independence of the judiciary and prosecution but an independent defence able to speak without fear of recrimination by the state is an essential for freedom and justice."
The allegation had centred on a critical statement which the prominent human rights lawyer made denouncing the guilty verdict for Mohammed Atif Siddique, 21, who was jailed for eight years for a series of offences in what was Scotland's first Islamist terrorism conviction.
Standing outside the court just after Siddique was convicted, Mr Anwar said the verdict was "a tragedy for justice and for freedom of speech". He also alleged that the prosecution was "driven by the state" and voiced concerns that the computing student's case was heard in an "atmosphere of hostility" following the recent failed terror attacks on Glasgow Airport.
The trial judge, Lord Carloway, accused the lawyer of making "disparaging remarks" about him, the jury and the prosecution.
Lord Carloway said Mr Anwar's statement seemed to criticise the court as "not being an independent and objective forum for the determination of criminal charges but part of a system of unfairness and repression".
He added that it seemed to be "an attack on the terrorist laws themselves" and that while "private citizens" could choose to make such criticisms or attacks on the courts and the law, it was "another thing for a law agent in a particular case to use his position in that case to do so".
The ruling is believed to be the first time in the UK that a solicitor had faced a contempt of court allegation, following the conviction of a client and in relation to comments made outside court.
In the summary judgment, Lord Osborne, Lord Kingarth and Lord Wheatley said: "Having considered all of the relevant material in detail the Court has concluded that, while the statements it examined embody angry and petulant criticism of the outcome of the trial process and a range of political comments concerning the position of Muslims in our society, no contempt of court has been committed by the respondent Aamer Anwar.
Scottish prosecutors will not oppose appeal court ruling that Mohammed Atif Siddique was wrongly convicted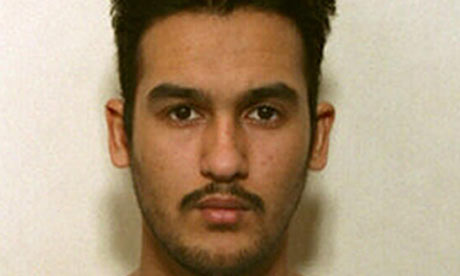 Mohammed Atif Siddique was freed after four years in jail today after he was cleared of plotting terror attacks by the court of appeal. Photograph: Central Scotland police/PA
A Muslim student accused of being a "wannabe suicide bomber" was released early from prison today after he was cleared of plotting terror attacks by the court of appeal, and claimed he had been persecuted for "thought crimes".
Mohammed Atif Siddique, 24, from Alva, near Stirling, was released part-way through an eight-year prison sentence after the Crown Office said it would not oppose an appeal court ruling that he had been wrongly convicted of preparing to commit or instigate Islamist terror attacks.
The shopkeeper's son was jailed for eight years in October 2007 for a string of terrorism offences after he was found guilty of downloading Islamist documents on weaponry, explosives and beheadings and then circulating them again on the internet.
He was also convicted of causing a breach of the peace at Glasgow Metropolitan college by threatening to become a suicide bomber and claiming to be an al-Qaida member, and showing images of suicide bombers and beheadings.
But last month, the appeal court judge Lord Osborne said he had been wrongly convicted of the most serious charge that there was a "reasonable suspicion" these documents were being held for the "commission, preparation or instigation of an act of terrorism".
The appeal judges said the trial judge, Lord Carloway, had "materially misdirected" the jury about the terms of the Terrorism Act 2000 on that charge because he had failed to link the documents with a specific act of terrorism.
Today, the appeal court formally quashed that conviction after prosecutors said they would not contest the wrongful conviction ruling. Members of Siddique's family hugged each other and wept outside the court.
In a statement read outside the court by his lawyer, Aamer Anwar, Siddique said he had been convicted of simply possessing Islamist documents. "Our laws should bring to account those who plan acts of terror and not criminalise young Muslims for thought crime and possession of propaganda," he said. "I have always maintained my innocence but they took my liberty, destroyed my family's reputation and labelled me a terrorist, but I never had any bombs or plans to hurt anyone," he added. "In court it was said I was a wannabe suicide bomber, but I have always said I was simply looking for answers on the internet. I am grateful to those who supported me. I just want to go home now and live my life in peace."
The Crown Office said earlier that after four years in jail, Siddique had effectively served his sentence. He also remained convicted of several other terrorism charges linked to his publication of terrorism-related documents online, it said.
It claimed the interpretation of the law on commissioning or instigating terrorist attacks had changed since Siddique was convicted, after the House of Lords issued guidance following subsequent trials in England.
His conviction later led to a dispute between Carloway and Anwar after the lawyer claimed, on behalf of Siddique's family, that the case was politically motivated since Siddique was arrested soon after the bomb attack on Glasgow airport. Anwar was charged with contempt of court but was cleared after a short trial.